I've been slacking with the blog posts again! I'm sorry! Every weekend for like the last three weeks I've been out with the
Weekenders
. GSP readers please welcome
B
ret and
B
rittany. This weekend started with us going to LACMA for the Vanity Fair exhibit. Then we sped down to melrose to pop into Johnny's spot, then to the beverly centre. It started pouring rain when we were out. We did completely nothing in the beverly c. We saw the game though, in the LOUIS store making some purchases. He wasnt all rugged either, I peeped his nike windbreaker ( a vintage one too). To end the day we had lunch at california pizza kitchen.
Here's the evidence:
(excuse the voice, i was chewing on a candy apple.)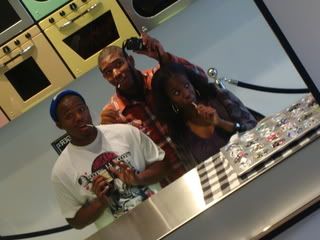 im on with the bape store. the new shit is nice. I cant lie.