sooo. i was meaning to update the blog. . . . .unfortunately the internet wanted to not connnect n shit. soooooo last sunday it was
10000
degrees. I ended up sleeping in x going to dennys with some of the clowns. Our waiterr was a little
weird
! we got our food nd ended with a food fight !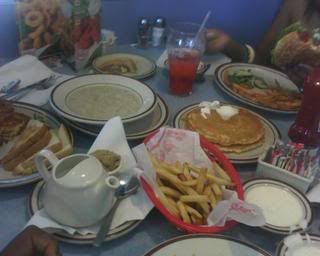 so half the the table is filled with
FAYES
FOOD N SHIT !
KEEVIINNN . LOL THE MUSTARD BANDIT !
me and faye. . . aka the hungry ass. lol
NEXT UPP
omfgggg ! ! ! ! ok so i just peeped this lines summer collection recently and im in love. the tee's are siccccckkkk and the blog is crazy ! !
www.theawardtour.com